POINT OF SALE RESTAURANT
Point-of-Sale Systems, offers a truly unique, complete POS computerized retail sales and inventory control system for retail stores, salons and hospitality businesses. Plus we offer a variety of associated products and services which will work together to make managing your business easier!
Tableside Ordering
Aldelo lets you customize your floor layout and manage individual tables within the POS system. Track orders by table and seat to ensure orders are always placed accurately and delivered to the right patrons.
Kitchen Communication
Once an order is placed at the POS, the ticket is then sent to the kitchen via a remote printer, which creates a paper ticket, or a kitchen display system (KDS) which projects the order on a monitor for the kitchen staff to see. The restaurant system ensures orders make it to the kitchen promptly and accurately.
Tip Tracking and Employee Management
Our restaurant POS software allows you to track tips within your system to easily and quickly allocate compensation to the wait staff. Use your software to manage employee time and attendance with clock-in and clock-out features. Set compensation rates and run your entire payroll through your point of sale system
Customized Menu
We can program your entire menu into the POS software for easy order entry. Your staff can identify menu items by pictures to increase speed and accuracy of entering orders. The restaurant software allows you to divide your menu by sections - for example, appetizers, mains, sides, and drinks - to keep everything organized for the wait staff
Recipe Tracking
Aldelo lets you maintain your recipes in your point of sale to allow for complete inventory management. When a menu item is ordered, the system will automatically deduct its ingredients from your inventory. Recipe tracking also lets your chefs and bartenders easily access guides for preparing any order.
Online Ordering
Our restaurant POS software allows businesses to fully integrate their website with the POS to allow for online orders. When your staff enters an order, a ticket is automatically created within the point of sale and sent to the kitchen. We can even setup your website with online ordering integration to offer a true turnkey solution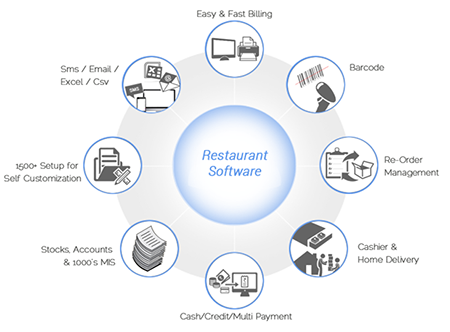 FEATURES &FUNCTIONS OF POS
Functions
Open Day
Close Day
Tender Declaration
Cancel Bill
Review Cancelled bills
Split Bill
Attach Table
Merge Table
Transfer Table
Waiter Transfer
Cashier Transfer
Remove Tax
Remove Additional Charge
Remove Discount
Refund Bill
Review Refunded Bills
Print Check Yes/No
Print Bill Yes/No
Print Token Yes/No
Print KOT Yes/No
Cash Box Open Yes/No
VFD Display Yes/No
Duplicate Bill
Duplicate Check
Duplicate KOT
Duplicate Token
Review Closed Checks
Paid-in/Paid-Out
Kitchen Monitor Yes/No
Enter Limited Qty
Gift Voucher
Stock In
Stock Out
Closing Stock
Meal Period Setup
Time and Date Setup
Kitchen Printer Setup
Master Setup
Terminal Setup
Printing Setup
Sales Report
Quick Menu Yes/No
Reservation
Tender Audit
No Sale
FEATURES
Some of these features include:
Easy To Use
Fast Lookups
Complete On-Screen Help
Product Photos
Touch-Screen Ready
Multiple Locations
Customer ID cards for loyalty
Account Customers
Fast Customer Checkout
Three Security Levels
Discounts with different authorization.
Taxes
Multi-Register
All Card Processing
Random Weight Barcodes
Sales Commissions
Suspended Sales
Cash discount
Packing Slips & Labels
Reports Exports To MS-Excel
Price/On-hand Lookup
Different type of Schemes for sales promotion.

Sales Discount % based on qty or value
One Free Item for same or different Item sales. Different schemes on different sales quantity.
Schemes can be clubbed for Product wise or product group wise or Brand wise.
Schemes on total bill value.
Loyalty points and redemption scheme.

Different authorization levels – user wise for discounts and rate change.
Gift Cards
Transaction Voiding
Transaction Parking
Returns
Tender Types
Credit Notes
Gift Certificates
Barcodes printing .
Min stock level for each location.
Inter-store Transfers
Staff Information for inventory reordering – receipts – pending for labeling
Security
DSS and MIS Reports
Method of Payment Consolidation
Cashier reports for End of Day Session
Price & Inventory Lookup
Finger Scanning for access rights
Finger Scan for Clock-in & out and time attendance
Pricing structure for fast sale price fixing.
Product group wise Profit mark up setting for sale policy.
Min level – product wise setting structure  , for fast moving slow moving Items.
Purchase Planning and purchase order.
Material receivable reports for follow up.
Quality check – after good receipt – payment to supplier voucher passing control only after quality check.
Product group wise approve vendor list.
Product price change tracking .
User levels- roll based for different level of authorizations.
Cashier shift duty can be defined
Counters can be defined for Departmental selling. Counter machine wise  printer , scanner, customer display , POS key board, barcoded scales,  and cash drawer can be defined. Each drivers can be linked with the Specific counter.
Wireless - Hand held computers with bar code scanner for physical
stock taking and pick up list wise issues. Integrated applications for smooth operations.
C-POS Solution. Chattary
Billing Features
Tender Modes
Description
Credit Card
Debit Card
Bank Payment
Food Coupon
Gift Voucher
Credit
Cash
Foreign Currency
Purchase Features
Discount & Schemes
Document Printing
Fully User-Configurable Invoicing
Taxation Reports / Registers
MIS Reports
Utilities
General Features
Comprehensive Financial Accounting
Inventory Management
Billing Features
Multi Rate, Price List, & Discount
Cash / Credit / Split Invoice & Challan
Sales Return & Replacement on Sale Bill
Party Wise Rate, Discount and Scheme
Salesman / Route / Area Wise Bills & Reports
Indication for Loss, Min, Max, New / Old Rate & Expiry
Negative Stock Billing Facility
Self-Designed Price List (Set Formula in Price List)
Sales Return on Same / Separate Bill & Its Adjustment
Back Date Stock Position at the Time of Billing
Switch Over from Bill to Bill Anywhere
Godown Wise Billing & Stock Position
Bill Import / Export & Message on Bill
Auto Calculation of Levies & no Chance of Manual Mistake
Display last four Deals at the Time of Billing
View O/s Stock, Ledger. Last Deal of Sale & Purchase Returns, Receipt Payment Bill Modification at the Time of Billing
Counter Sale Entry Provision
Party History Dashboard on Party Selection
Provision to Load Item from Other Bill
Purchase Features
Display Last 4 Deals at the Time of Purchase to Cross Check Rate Deal, Disc Tax & Cost
Purchase Planning & Purchase Order Management
Supplier Wise Various Outstanding Reports & Remainder
Pending DR / CR & Replacement Notes
Auto Barcode / Label Printing from Purchase Bill
Fix Sales Rates & Deals at the Time of Purchase
Online Shortage Management
Purchase Costing Comparison
1000's of Purchase Reports & Analysis
Online / Softcopy Purchase
Discount & Schemes
Items Wise Double Percentages Discounts
Item Wise Double Volume Discounts
Four Different Discounts on Complete Bill
Party Wise Discounts & Schemes Pre-Fixing
Data Wise Schemes, Quantity Based Rate & Discounts
Various types of Schemes, Like A Item Free with B Item Etc.
Document Printing
Accounts Vouchers & Cheque Printing
Receipt/ Payment Advice
Sales / Purchase Invoice, Estimate A7 Challan
Sale / Purchase Return Replacement & Price Difference
Debit Note/ Credit Note
Sales Orders / Purchase Order
Bank Pay in Slip & TDS Certificate
Stock Transfer Memo
Delivery Note, Goods Receipt Note & Dispatch Summary
Fully User-Configurable Invoicing
Vat Invoicing Tax (Tax / Retail)
Tax Inclusive, Exclusive & MRP Billing
Multiple –taxes in Single Invoice
Manufacturing / Trading Excise Invoice
Export Invoice & Packaging Slip
Option for Pre-printed Stationary
Self-Designable Invoice Format
Taxation Reports / Registers
Sales Tax / Purchase Tax Summary
Sales Tax Account Registers & Vat Returns
Sales Tax Forms Receivable / Issuable & Reminders
Service Tax, F.B.T., T.D.S, T.C.S Excise, Cess & H.E. Cess
Party Wise Vat Summaries
Check List
MIS Reports
Cash Flow, Funds Flow & Ratio Analysis
Budgets / Targets / Credit Limits
Online Graph, SMS & E-mail
Any Report Export to Word & Excel
Sales / Purchase Analysis
Gross Profit Analysis
Financial, Expenses & Budget Analysis
Operator Wise Powers & Foundations with Operator Log Book
POS Reports
Description
Bill wise
Table wise
Cabin wise
Waiter wise
Driver wise
Hourly Sales
Weekly Sales
Transaction type
Cancelled Bills
Refund Bills
Order Type
Void Items
Refund Items
Cancelled Items
Items Discounts
Additional Charges Items
Fast/Slow Moving Items
Home Delivery Sales
Pickup Sales
Takeaway Sales
Dine-In Sales
Discount Bills
Additional Charges Bills
Driver Wise Pending Bills
Waiter wise Pending Bills
Cashier wise Pending Bills
Customer wise Pending Bills
Stock- in Report
Stock-Out Report
Taxed bills
Gift Voucher Bills
Tender Declaration Report
Monthly Report
Day-End Sales Report
Closing Stock Report
Meal Period Report
Price Change Report
Kitchen Printer Map Report
Master's Report
Terminal Configuration Report
Reservation Report
Promotion Sales
Item Sales
Group Sales
Sub Group Sales
Category Sales
Kitchen – Department Sales
Kitchen Section Sales
Table Turn Over Sales
Waiter Turn Over Sales
Kitchen Department Turn Over Sales
Kitchen Section Turn Over Sales
Fast and Slow Moving Qty-Value Sales
Fast and Slow Moving Cost – Sales
Area wise sales
Area wise – Item wise
Area wise – Promotion sales
Customer wise Bill – Qty- Value – Promotion sales
Customer wise Loyalty Points – value
Customer Loyalty Redemption
Other Integrated Modules:
Financial accounting System.
Purchase management – purchase planning.
Packing and labeling of loose material in different packing size .
Time Attendance system, leave management , shift scheduling and pay roll.
Personal , recruitment and promotions.
On line shopping Portal – integrated with main system.
Utilities
Smart Vat Patch no Need to Update software
User–Definable Warning Alarms & Colorful Indication
Year-Wise Data Backup and Restore
Data Export to Word / Excel / Text File
Draft Mode & GUI Printing
Last Year Comparison with Various Reports
Bird's Eye View of Accounts
Powerful Query System
Credit Limit in Amount, Bill & Days with Stop Billing Facility
User Definable Hot Keys
Data Security with Self Backup & Carbon Copy system
Sales/Purchase, Bank, Ledger & Data Freezing on any Date
Auto recovery of Bill for unsaved bill due to Power Off
Attached with Hospital software & work on their guidelines
Any Report Printing from anywhere
General Features
Single User & Multi User
100% Data Security & Accuracy
Tried & Tested (100% Error Free)
Multi-Currency, Unit, Godown & Financial Years Facility
Calculator & Cash Return Adviser
Month Calendar with Appointment Dairy & Note Pad
Supplier, Customers & Personal Directory
Telephone Book Envelope & Labels Printing
Hot Keys for Switch Over from one Report to Another
software / Operator/ Company Password & Boundations
Data Security with Self Backup & Carbon Copy System
Sale / Purchase, Bank Ledger & Data Freezing on any Date
Any Report Printing from Anywhere
Comprehensive Financial Accounting
All Book of Accounts & Final Results
Balance Sheet with Various Schedules
Configurable Sales & Purchase Registers
Outstanding Reports and Analysis
Configurable Payment Reminder Letters
Configurable Statement of A/c
Interest Calculation & Bank Re-conciliation
Depreciation Chart (as per Co. Act / it Act)
Cost Centers with Grouping
Funds Planning / Bank Planning
Post Dated Cheques Facility
Voucher Approval System
Inventory Management
All Books of Inventory
Brand, Group & Category Wise Inventory
Stock Valuation on Multiple Methods
Item Wise Gross Profit
Primary and Alternative Unit for Each Item
Party-wise Price Structure for Items / Groups
Multiple Prices Lists of Items
Sales & Purchase Order Processing
Batch / MRP / Size / Shade / Reference / Serial No. Wise Inventory