Chattary's C-HRMS is specially designed for big organization having multiple locations, multiple departments and various rules for different set of employees. The complete system is web based – secured system which can handle thousands of employees together for most of the activities.
E-HRMS is an integrated web based software solution of various Modules like Time office management, Leave management, Payroll management, Personal , Recruitment and Performance management, Employee Facility management, employee administration, employee training and development. The software is capable to handle higher number of employees for organization having multiple locations, multiple divisions / departments, where the Attendance parameters, Leave policies and earning deduction calculations are different for different type of employees. System is working, on line, as per policies defined, to support employee's requirement from time office or HR department. System also provides easy approval process to higher officials, by giving on line information to employees help in reducing work of time office drastically.
Main Architecture
Multi User Support and real time transaction processing:
Large number of users can access the system at a time and add transactions, give approvals, view information and get reports. User's role wise access rights can be set by administrator. For approvals – division wise or department wise hierarchy can be set for auto flow of application to next higher up.
Integration with time machines:
Multiple machines at different locations can fetch the data directly on regular interval. Scheduler can be set based on requirement to get the punch data from attendance machines. Any type of machine, for which data transfer interface is available, can be integrated with the system
Web Based application
Application is fully browser based to allow user to access from anywhere to use application as per his authorities.
Data Transfer Utility:
Data from any existing system can be easily transfer / export in many formats to use data for any other application. Similarly application allows importing data in prescribed format with required validations into the HR system.
Security:
It is full proof security system. Only authorized persons can access data as per given rights for addition, deletion, modification, cancellation.
Easily Configurable:
As E-HRMS is designed for big organization, it is possible to configure the system as per rules/ policies of organization. Flexibility of attendance parameters, leave type and rules, earning type and deductions, approval hierarchy, user rights, performance parameters / criteria, etc can be set as per company's norms without changing software. This can be done in between with effective date also.
User Friendly system:
The Application front end is designed very simple and user friendly. System provide help on every form. System is showing rules and validation details while entering data. This reduces implementation time and system will be used effectively by normal users with minimal training.
Admin
Organization Structure, Rights, User Role, department wise user's hierarchy and system configuration.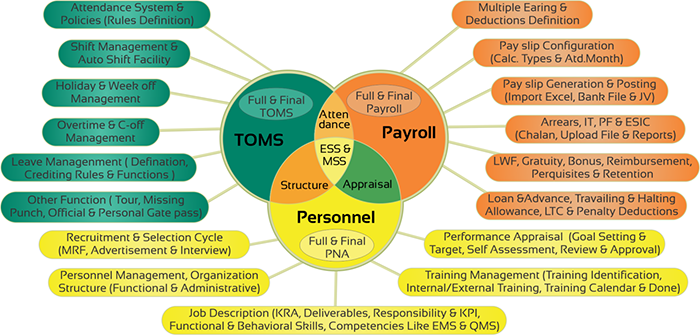 Time Management
Time attendance parameters for flexibility in Presence & Absence, Department wise – location wise Shift Management, Employee wise -Leave Management for different type of leaves, Rules for Leaves for application, approvals, balance, encashment etc, can be different for different category. Over time calculation – application and approvals, Extra Duty Hours and Compensatory Off, Short Leave and on duty out going handling, Manual Time data settlement for any exception or forgotten punch, Reports for various activities, analysis and MIS.
Payroll
Earnings, Deductions structure, Parameters for HRA, CCA, Vehicle allowance, employee classifications. Loan & Advance management module for employee loan application, sanction and monthly Installment deduction for different type of loans. PF, Income Tax management, Gratuity, Statutory Forms, Reports
Personnel Administration
Personal management – record keeping and updating, Recruitment & Selection, Performance Appraisal, Promotion, Increment, Training & Development, Benefits, Employee asset management, exit interview, Reports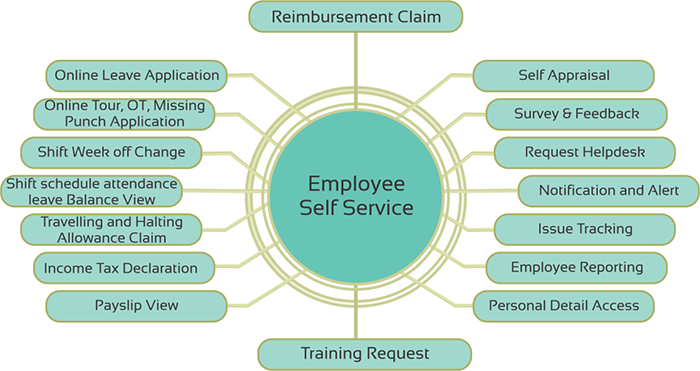 ESS (Employee Self Service)
ESS enables all employees to access relevant information in a single window. It makes possible for all employees to request for certain transactions, see the status of transactions, fetch reports and provides periodic earning-deduction information.
Key Features:
User friendly system with multiple applications
Employees can access their personal-official information Employees can apply online leave, Overtime, Week-off change, Shift change request
Enables employees to apply online Claim for Leave Travel Allowance, Leave encashment
Have Access to Pay Slip & Various Reports
Facilitates to forward suggestions & complaints
Employees can check the status of relevant application
System populates alert to make employees aware of their Transactions
MSS (Manager Self Service)

HODs (Managers) are provided with special rights to access several transactions and reports
Have rights to approve/reject online leave, shift change, week-off change applications
Can forward various applications to higher authorities for discussion
Can forward man power request to HR department
Automated system alert to make managers aware about pending transactions
Time Management System
This module makes time management much easier with automated attendance-absence management system.
Key Features:
Attendance- parameter for flexibility for In Out punches can be set for various employee groupings.
Automated In-Out Punch fetching from multiple machines & multiple locations, and doing auto presence and absent based on shift, leave application, week off, tour, etc.
Manual punch entry by authorized person for forgotten punch and non punching employees.
It handles Overtime Auto Calculation, Late coming reporting, C-Off generation
Official & Personal gate pass management for outgoing employee.
Shift Management:
Programmed multiple shifts & Shift patterns can be assigned to all employees in easier way.
Key Features:
Department Head can control his employee's Shift scheduling.
Fixed and rotational shift management
Continue shift scheduling facility
Shift change provision for both single change and mutual
Change with other employee
Shift based compensation calculation
Manual shift change amendment facility
Approval based shift allocation system
Half/Full week-off allocation in single/multiple/alternate week
Leave Management:
Client specific flexible parameter based leave management reduces transaction time and maintains leave record efficiently.
Key Features:
Easy Configuration of Leave Enhance Master sets multiple parameters for various types of leaves and automates Leave Policies.
Facilitates higher authorities to sanction leave according to leave policy of the company.
Provision for online leave request approval/disapproval
Provision for Sandwich Week Off
Configurable Leave Encashment parameters.
Automated time based Leave Accumulation
Handles Leave Travels Allowance compensation
Configurable Public/Company specific holiday declaration
Leave balance with approved/unapproved/cancellation/non-availed status
Payroll Management:
Pay roll management Provides Flexibility in defining most complicated earning and deduction required in big industries . Department wise , location wise and grade wise the salary parameters may be different. System allows to program parameters to cover calculation based on different policies for different set of employees, so that pay slip generation will become smooth and automatic.
Key Features:
Auto pay slips generation
Intermediate Pay slips facility availability for more than one Payment in a single month
Handles income tax calculations as per defined income tax Rules
Preset earning parameters for complex earning structure HRA, DA, CCA etc…
Time based & Promotion based earning increase calculation
Configurable Account Journal Voucher structure creation
Salary data security using pay slips locking facility
Time wise, department wise multiple reports related to Earning-deductions
Automated Bank files generation with salary information and account number for all employees
Parameter based precise calculation for Overtime, LTA, Bonus, Ex-Gratia etc...
Excel import/export facility
Automated Full & Final Settlement
Parameter driven deductions like PF, VPF, Pension, Professional tax calculation
System equipped with various forms like Provident fund Challans, form 3A, 6A, 12A, 2, 5, 9, 10, 7F, 6, 7, 5A (Professional Tax)
Auto prepared 24Q Challans & Annexure
Parameter based gratuity, Employee stock option calculation
Arrears & release calculation
Medical & other reimbursement calculation management
Employee fund management
Loan-Advance Management:
Loan management is defined separately based on various schemes by considering government rules and maximum employee benefits.
Key Features:
Configurable schemes according to various interest rates
Multiple Income tax saving parameter under rule 80C, 80D, 80U, 80CC, 80G, 80E etc….
Defined quantum for income tax deductions
Automated interest and installment calculation according to various loan schemes and income tax sections
System capable to generate various reports related to loan-advance status.
Personnel Management:
This module allows HR persons to keep track of employee information day to day. Personnel administration is made quite easier with the help of this module.
Key Features:
Department & designation allocation after joining of employees
System alert available after completion of probation period of Particular Employee
Make available use of competency mapping
Company provided accommodation management
Handles employee leaving formalities & Exit Interviews
Enables to access data related attrition rate, causes & employee turn Over keep track of employee grievances, suggestions
Handles accident management
Maintain records of issued items like Gloves, Uniform, Shoes, etc…
Performance Management:
This module is helpful in capturing and evaluating the information related to the performance of the employees. In this way C-HRMS provides surety that the employees are performing well and they are well competent for the assigned task in the organization. This module is also helpful for timely and truly performance appraisal for all employees based on their performance and duration of service.
Key Features:
Parameter based performance appraisal
Self assessment with 90, 180, 360 degree appraisal management system.
Time based, Merit based, Up-gradation based promotion management system.
Stipulated KRA Appraisal management system.
Define various Evaluation methods to evaluate the performance of the employees in the organization.
Define various Key Results Area (KRA) based on Function and sub function of the employees.
Define various responsibilities based on KRAs.
Define various Key Performance Indicators (KPI) based on KRA, responsibilities.
Define Unit (in amount, in date (validity), Days (period), Number or percentage) as well as evaluation method( alphabetic grading, percentile or numbering based on 10) to evaluate the Key Performance Indicator of an employee.
Set Goals (based on Job Title, Level in Organizational Structure, Function/Sub function, KRA) of an employee with Evaluation date.
Define competency for various levels, functions and sub functions.
Evaluate Employee Skills, based on competency and evaluation method.
Define Job Description based on Job Title, Function/Sub Function, reporting authority and purpose in the organization.
Also record information like competency details, qualification details, and experience details for particular job description.
Define performance evaluation based on employee wise, department wise, sub department.
Define performance review based on employee wise, department wise, sub department.
Set periodic alerts for performance review and evaluation.
Allocate various Job Description, goal target, goal target self assessment to an employee with functional and admin authority.
Multiple reports based on JD, KRA, KPI of the employees in multiple departments and organization.
Clear and Precise organizational chart and reports based on it.
Training & Development Management:
It provides training & development plans and requirements for present and future needs for business up gradation.
Key Features:
Create training schedules as per requirement
Facilitate indentifying competent & skilled personal for specific task
Maintain record for training type, training cost, location and trainer
Post training feedback make aware of effectiveness of the Undergone training
Recruitment & Selection:
It enables recruitment process more cost effective and faster. It caters easy access to source & screen most suitable candidate data.
Key Features:
Department heads have facility to forwards manpower request
Handles record for manpower planning
Management can obtain reports related to future needs
Links with multiple recruitment agency/consultants and web portals
Keep track of interview schedule and make aware interviewer for it
Fetch data of rejection candidate information
Automated call letter preparation
Keep HR inventory records
Delivers Interview & Medical checkup call letters
Keeps health records of all employees along with dependent and Beneficiary information
Provides various reports including employees all information along with Past experience
Documents can be uploaded relevant to qualification and experience
Benefits:
This module makes aware to all employees about various insurance and benefit plans of the organization. Moreover organization fulfils statutory government requirements by providing them social security related benefit and insurance plans.
Key Features:
Manage various life insurance, health insurance, pension schemes
Maintain details of employees engaged with life insurance, health Insurance plans
provides timely information of maturity benefits of various schemes
User/Role Management:
N to N level user role management.
Single/multiple department wise HOD access rights.
multi user system
Encrypted password security
Add quick links facility, shortcut keys
Work flow management – for approval based on User's hierarchy.